Arts in Exile – Virtual Exhibition
Project text
Contents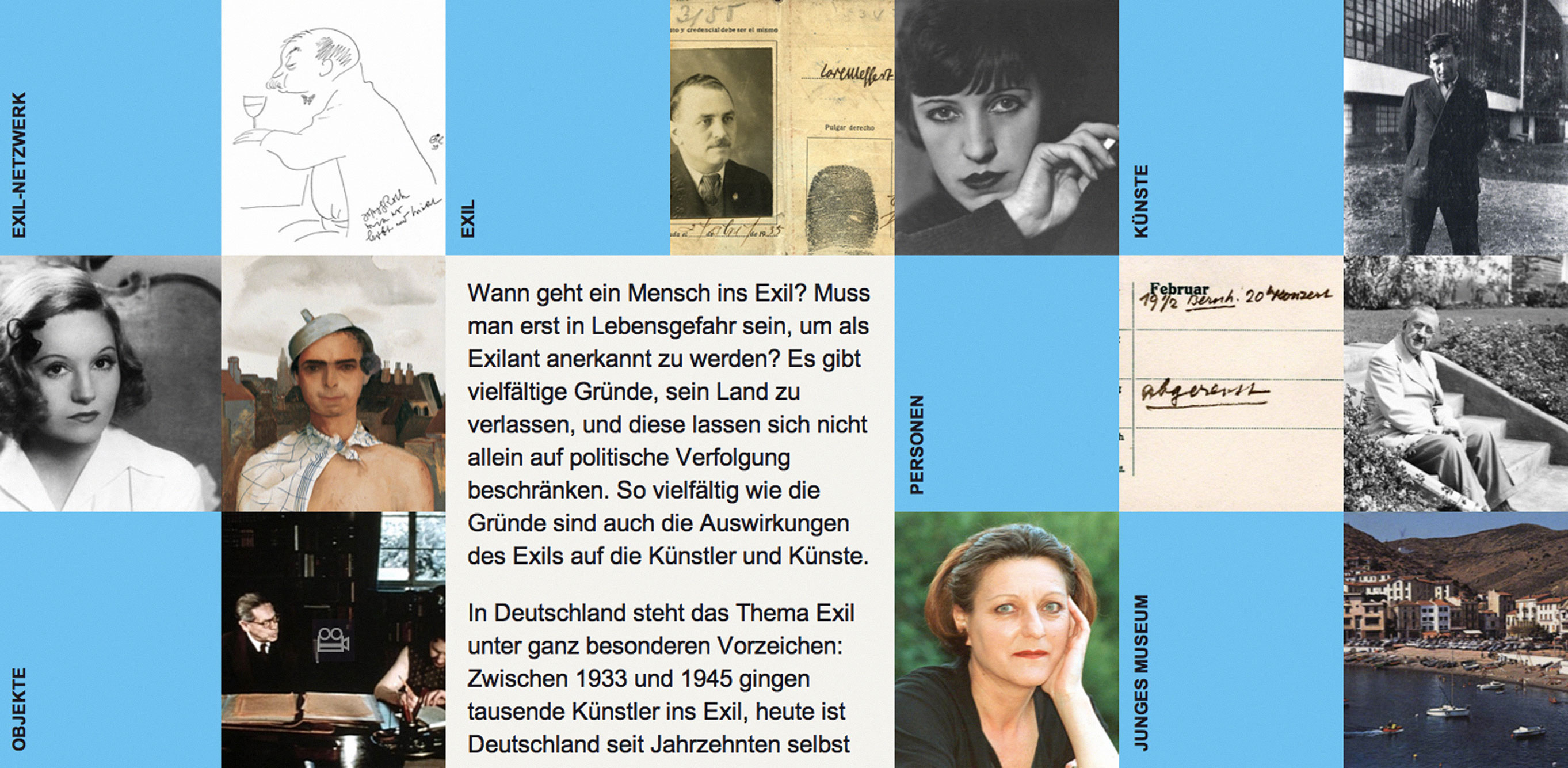 Client:
]init[ AG, for the German National Library
Project text:
The Arts in Exile virtual exhibition is a network project under the guidance of the Deutsches Exil Archiv 1933-1945 (attached to the German National Library) and realised by ]init[ AG,Berlin, as project coordinator and technical services provider, and IGLHAUT + von GROTE, as editorial partner and media producer. This virtual presentation, in its initial form, was launched for the general public on September 18, 2013 by German Minister of State for Culture and Media Bernd Neumann. The website focuses on artists in exile, particularly those who fled their countries to escape Nazi vilification and persecution. Such artists numbered in the thousands and they often faced threats to their lives. But the exhibition also deals with the migration of artists in partitioned Germany and the resettlement of persecuted artists during that period. This approach to tackling the theme of exile not only serves as a reappraisal of a most complex aspect of German history, but also seeks to raise awareness for the plight of the artists of today who experience persecution and expulsion. The exhibition presents and illuminates the artwork and personal documents of artists in exile, presented in the form of short, personal portraits. This is complimented by in-depth commentaries from the field of exile research and these are always presented alongside correlated objects and personal stories.
The project brings together collections and articles from a host of different institutions devoted to the collection and research of art produced in exile. The virtual Exile Museum is home to a host of curated presentations presented in a gallery format, with a range of content that is continuously being expanded.
The first temporary exhibition of Künste im Exil (Arts in Exile) is dedicated to the painter Max Beckmann, examining his artistic biography as well as the impact that exile had on his life and work. In four chronological chapters, the exhibition encompasses not just artworks but also Beckmann's personal and artistic circle.
The temporary exhibition marking the 130th anniversary of Beckmann's birth, on 12 February 2014, has been developed in close co-operation with the Max Beckmann Archive, Munich.
Tasks:
Concept development, editorial work and production of the virtual exhibition.
Creation and import of contents into the CMS.
Project by Iglhaut + von Grote